You are walking around the casino. Like every other time, you pass by the baccarat tables, and you are not sure what to make of it.
The tables are usually either desolate islands of non-action, the dealer looking around bored; or, there is a small town of people clustered around an obviously full table with two dealers and a pit boss just to handle the crowd of people in a monied frenzy. You don't want to sit alone with fourteen other seats around you, but you don't want to try and squeeze into the impenetrable hurricane of a full table either.
No worries. You have options.
Introducing: Baccarat Mini
Baccarat is such a popular game that is also comes in a 'mini' variation as well. Mini baccarat, as the name implies, is a smaller version of regular baccarat. It offers the same odds and exceedingly easy play, but in a format that is much more conducive to the average person just walking up and hopping into a quick game without worrying about any other considerations.
Mini baccarat introduces the following changes over traditional baccarat:
Ten players as opposed to fifteen
One dealer instead of two
Players do not handle the cards
Six instead of eight decks of cards
Last and somewhat unofficially, is that fact that mini baccarat tends to be a bit more informal than it's regular counterpart. Most traditional baccarat tables are usually set aside from the main gaming floor in another room or a quiet alcove. Like James Bond, whose favorite game baccarat, it is customary to wear a tuxedo or gown and treat the game as an instance of high society at play. Mini baccarat tables are usually found with the rest of the "regular" casino games on the main gaming floor, and no one will look at you funny if you sit down on a Tuesday afternoon with a double whiskey wearing a suit you have had on for three days straight.
The Differences Between Mini and Traditional Baccarat Tables
This is a traditional baccarat table layout: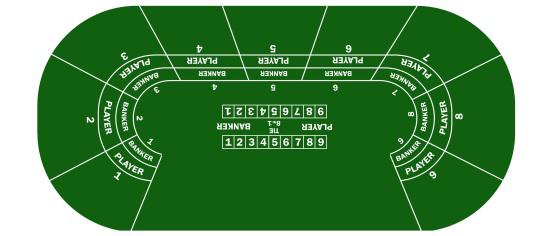 This is a mini baccarat table layout: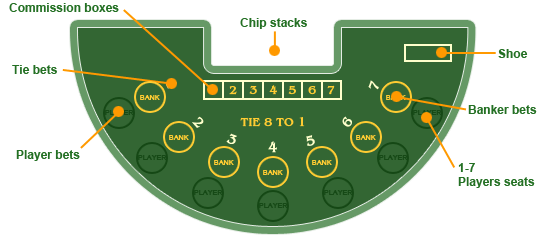 Have a look at the differences. Visually, it should not seem like completely new territory—just a couple less seats.  There are still areas to bet for either player, dealer, or tie, but as mentioned above, the cards do not touch the player's hands at all. You simply make your bet and then sit back, relax, and hope for the best.
It's easy.
In Have Large Fun with Mini Bets
Another difference that mini has over traditional baccarat is that some casinos will allow a "mini" betting limit with mini baccarat. This is perfect for (newcomers) looking to avoid wagering too much money per hand. $2 and $5 minimum bet limits will ensure that you do not run out of money within a span of a couple hands. Mini baccarat is also perfect for the seasoned veteran that is looking to unwind with a little bit of no-strategy gambling.
It doesn't matter who you are, baccarat is the perfect game to pass some time. And remember, small bets can potentially lead to something big.
How to Cheat Mini Baccarat
Want to learn how professionals scam big casinos using baccarat cheats? Check out the video below.
https://www.youtube.com/watch?v=piNIKCX3htc