Hi all!  First, I hope you've had a very merry Christmas and a wonderful holiday with your loved ones!
Here's some Christmas gossip to catch you up…
Katy Perry and Russell Brand are planning on doing something a bit unorthodox this holiday season. The songstress and the comic married in a lavish ceremony back in October following a year long romance, and the couple explained they want to focus on creating "an experience" for their first holiday season as husband and wife, rather than exchange gifts.
Perry explained, "Honestly, we're not doing presents this year because we're going to do an experience instead. My whole life has been an experience, especially in these past few years and this year in particular."
The generous starlet is also planning on donating some of her clothing to charitable organisations to help those in need over the holiday season. She continued to explain, "I just feel like I have so much and sometimes I feel like I have too much. I seriously have all these wonderful things and I need to give them away because some of them don't fit me!"
There have been rumblings that the couple is following the celeb trend to start their own charity!
However, the newlyweds are are planning to give presents to their three cats, Kitty Purry, Morrissey and Krusty.
Brand recently explained his idea of Christmas, explaining, "I like doing normal things for Christmas – watch the TV, sit down, relax, look out the window, play with the cats, give presents to the cats, expecting that they'll somehow understand the concept of nativity, that sort of thing."
Hmmm, should we be expecting a Christmas picture with the Brands and their "Three wise cats?"
Perry also gave one small glimpse into the couples life, dishing, "There will be me and Russ and a pink Christmas tree and a tofu-urky."
Nice! Keep it simple kids!
And next year, there could also be an addition to the family, a little Brand?
The singer also revealed in an interview that the pair is on track to having children and looking forward to the pitter patter of little feet.
"Absolutely. I don't want to miss out on any experience. I want lots of children," she explained in Grazia magazine. "It's all very possible." The singer also added about her new husband, "What can I say? He's brilliant. He amazes me every day."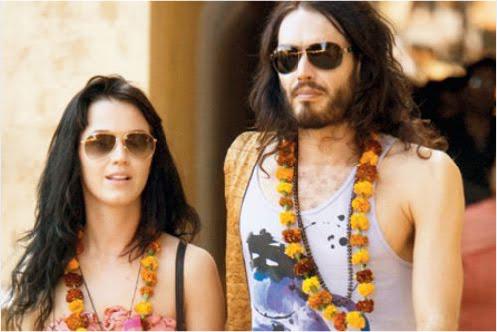 The pair met while Brand was hosting the 2009 MTV Video Music Awards. Perry shared some details about their amazing first date! "Russell gave this necklace to me on our first date," gushed Perry. "It's a Hindu hand of peace. But they're not beads, they are black diamonds. He gave me black diamonds on our very first date!"