Amanda Seyfriend and Ryan Philippe's Secret Romance is OUT –
What  a H-O-T Couple!!!
After meeting at Kate Hudson's Halloween bash in October of last year, Amanda Seyfried and Ryan Phillippe's secret romance has been heating up. When the couple met Phillippe was dressed up as Star Wars icon Obi-Wan Kenobi while Seyfried went as a dog.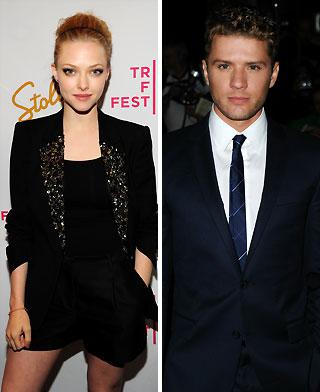 The under the radar couple has been secretly dating, but it appears as though the stars are taking their relationship public.
They have been spotted like, everywhere together. The pair were caught Christmas shopping together in Hollywood before the holidays. Most recently they were snapped during an embrace while Seyfried  was taking a break on the Los Angeles set of her upcoming flick 'Now.' The following day, they indulged in a late morning breakfast with friends at Los Angeles eatery Joan's On Third.
A source close to the couple said, "They're really into each other. They're a really good match and just enjoying it all right now."
The recent L.A. sightings come a short while after the pair were seen grabbing a bite to eat together in Mexico last week. Seyfried previously dated her Mamma Mia! co-star Dominic Cooper. Phillippe's last public romance was with his former 'Stop-Loss' co-star Abbie Cornish, which ended on the beginning of 2010. Phillippe was also married to Reese Witherspoon, and they share two children. Reese recently got engaged to fiance Jim Toth. Ryan even publicly congrulated the couple.
Upon their announcement Phillippe told the New York Daily News, "I'm very happy for both Reese and Jim. I wish nothing but the best for the mother of my children."
We aren't even in the middle of January, but this year is already rolling in some hot celeb couples!
Zac and Vanessa Rekindle Their Musical Romance! In other couple news, it looks like High School Musical lovers Zac Efron and Vanessa Hudgens are back on track! Back in December Hudgens and Efron quietly announced that they were ending their five year romance.
Eyewitnesses saw the two this past weekend and report that the two are definitely back on. A source at the opening of Los Angeles nightclub Eden Hollywood dished that the pair were holding hands throughout the night.
An onlooker told People Magazine, "Vanessa was bopping around with her arms up, while Zac had his hands all over her. Vanessa had a smile on from ear to ear, and the two were inseparable after that.
The source continued, "They were making out on and off for the last hour or so until closing. They acted like there was no one else in the room."
Well, thanks for watching and letting us know!