Famous magician David Blaine and his pregnant fiancee had an unorthodox way of traveling to a New York hospital this past week. The gorgeous French model Alizee Guinochet and her beau had to literally hitch a ride on a New York City snow plow after Guinochet went into labor last Wednesday. Due to a severe snow storm in New York, public transportation services were closed.
The New York Post reported that chivalrous Blaine tried endlessly to find a taxi and rang up several car services. A bystander explained, "The doorman and people on the street tried to help him flag down a taxi. But there were absolutely no cars on the road."
Luckily, the couple were rescued by a snow plow, which Blaine ended up flagging down, and the snow plow driver ended up giving the parents to be a ride to the hospital.
We're happy to report that Guinochet gave birth to a bouncing baby girl. The couple has not released the name of their first child, but did confirm that the story was indeed accurate. The couple's rep added, "Mom and baby are doing fine."
Blaine popped the question to Guinochet in 2009, after a courtship of less than one year. An insider gushed, "they could not be more in love."
Congratulations you two! You guys have one of the most original birthing stories EVER!
Kate Moss is engaged!
Our favorite Calvin Klein model is engaged to her beau of three years, 'The Kills' guitarist Jamie Hince.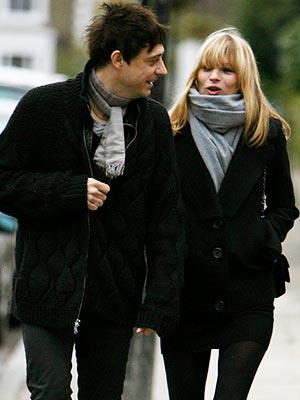 Hince reportedly popped the question this past Tuesday evening under the covers with a pricey vintage engagement ring. Hince also asked the famous supermodel's parents permission for her hand in marriage before popping the question.
An insider dished, "Kate is delighted. Jamie is the man for her — they are soul mates. She just wanted to make him work for her hand in marriage. He has been badgering her to get married, but she wanted to take her time."
The source added, "Over the last year they have grown so close, they are like man and wife. They're going to have the mother of all weddings. It will be a huge party, one of the biggest she has ever thrown, and she's thrown a few."
Looks like the royal wedding might not be the biggest British wedding this year— Rumors are swirling that the newly engaged pair are planning to wed on July 2, 2011.
Congratulations on your engagement!