Oksana Grigorieva had the best seat in town at Mel Gibson's widely publicized deposition yesterday. This marked the first time that Oksana and Mel have been in the same room since their custody war has flooded the news. Wait a minute.. when have these two not been in the news since they met? Between extortion and crazy rants what haven't they covered?
This time, it's a whole lot of dough. Sources are reporting that while agreements over custody is important to both parties there is a little document that was inked long before Oksana even met Mel that is worth well, a lot.
Back in May when Mel and Oksana reached a settlement deal during the mediation she signed for $8 million rather than opting for a previously established Icon Trust. Oksana changed her mind once she hired practically every legal brain in Los Angeles. Ummm… rightfully so!
Sources reports this trust fund worth approximately $400,000,000. Wow. That means roughly $50 million dollars for their daughter Lucia.
The deposition got so hot and heavy that other workers in the building heard the noise erupting from the courtroom. Sources reported that Oksana's lawyer, Daniel Horowitz, accused Mel of winking at him and clenching his left fist. However, the judge struck both statements from the statement from the record and Mel didn't cause any physical damage… just yet.
After a nine-and-a-half hour deposition Oksana left the deposition hearing looking exhausted but managed to give the waiting reporters a thumbs-up. Will Oksana walk away with the whole kit and caboodle? Time will only tell, but I would certainly bet on this being one of the biggest custody cases in Hollywood history.
In other news- Hold onto your unmentionables ladies…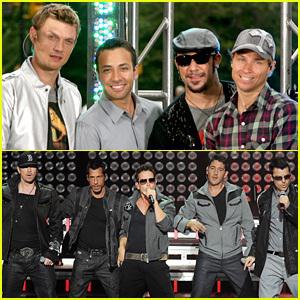 The dream team of boy bands has announced a joint tour of hotness. That's right – New Kids on the Block and Backstreet Boys are joining forces to croon your favorite ballads once again. And. Together.
No official dates have been announced just yet, but it was reported that the gentlemen will all be performing at this year's American Music Awards and then hitting the road this summer.
We're betting on a dance off… that would be E-P-I-C!