Halle Berry is planning to drag her ex Gabriel Aubry over custody arrangments of their 2 ½-year-old daughter Nahla.
So much for any more adorable family pictures! Boooooooooooooo!
Berry's rep recently explained in a statement, "Halle has serious concerns for her daughter's well-being while in the care of her father for any extended period of time and is prepared to take all necessary steps to protect her."
Berry recently pulled out of a role in the movie New Years Eve. Because of upcoming litigation issues, she pulled out of the flick and has been replaced by fellow actress Katherine Heigl. "She has attempted to resolve these custody issues amicably with her
daughter's father, Gabriel Aubry, directly, but given his lack of cooperation, Halle has no choice but to seek swift judicial intervention," her publicist added.
Though the ex-lovers were often spotted on family outings showing off their amicable co-parenting skills following their breakup. Aubry filed documents on December 30 asking to be legally recognized as Nahla's father and to establish a joint custody agreement.
Berry's rep says, "Halle has always made the needs and safety of her daughter her first priority and, both while Halle and Gabriel were a couple and since their break-up, Halle has only acted in her daughter's best interest."
Glee cast apologizes to Lohan
Lindsay Lohan ran into the majority of the Glee cast on Sunday, and the crew apparently apologized to Lohan for making poking fun of her numerous trips to rehab.
The cast (sans Lea Michele and Jane Lynch) strolled right up to Lohan and apologized. The talented cast explained that they did not mean to cause any harm, and Lohan allegedly accepted their apology.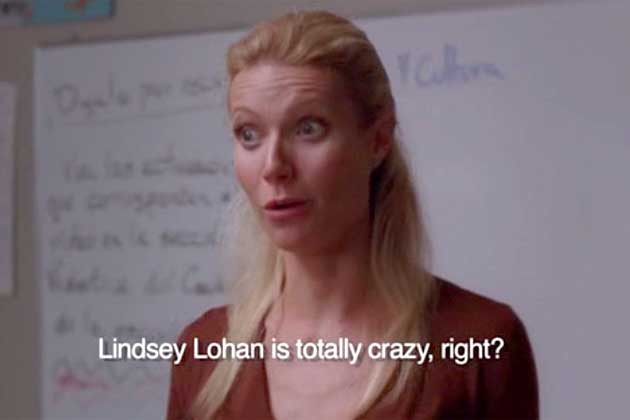 In the episode that made fun of Lohan, guest star Gwyneth Paltrow took on the role of substitute teacher Holly Holiday and in a Spanish lesson, asking the class, "Lindsay Lohan is totally crazy, right?"
She then asked her pupils, "How many times has Lindsay Lohan been to rehab?"
Apparently Lohan wasn't too thrilled with the show. Lindsay's mother Dina Lohan says, "Lindsay was watching it while in Betty Ford, then she called me and was upset and said, 'Why did she have to do that?' Lindsay is so upset with Gwyneth."
Dina added, "We are the first to make fun of ourselves in our family.
And Lindsay has even done 'SNL' a few times, but Gwyneth went overboard and it was unnecessary. Lindsay thought she was a friend and it was disappointing. It was really hard for her to watch– it was hurtful, not funny."
Paltrow has yet to make any comments about the Lohan jokes.