Jennifer Aniston hated 'The Rachel'
In a shocking article in Allure Magzine, Jennifer Aniston says that she hated her famous Friends-era haircut! '
"Let's just say there have been moments I'd rather not relive, like that whole Rachel thing," tells the February issue of Allure.
"I love Chris [McMillan, her long time hairstylist], and he's the bane of my existence at the same time because he started that damn Rachel, which was not my best look. How do I say this? I think it was the
ugliest haircut I've ever seen. What I really want to know is, how did that thing have legs?"
Wow. We are shocked. We thought she looked adorable!
The article continued with Aniston mouthing off about ABC's reality show, The Bachelor.
She goes on saying, "I was mesmerized by these girls, they meet this guy, they have three dates together or something, and they're weeping as though they've just lost the love of their life," she tells the mag. "I don't understand that."
Grab a copy of the February issue of Allure featuring the lovely Jennifer Aniston, on news stands today!
Kinky Kelsey Grammer
It appears that Kelsey Grammer's fans might in store to learn a whole lot about the critically acclaimed actor if his soon-to-be ex-wife wants to spill the beans, or rather open his closet.
There have been rumors flying around and being denied left and right that Grammer is a feisty man who likes to dress up in women's clothing, and sometimes be called Kelly. When he married Camille
Grammer, the pair opted against a pre-nup which gives her the rights to pen a tell-all book full of surprises.
A source recently revealed, "Kelsey is very kinky. A lot of people would be shocked by what he likes but he's not doing anything illegal. Unusual, yes!  But any woman that's going to be with him is going to have to get used to it."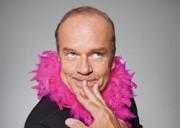 Another report revealed that Kelsey was snorting a lot of cocaine during his reign on the hit sitcom Cheers, and that a bunch of provocative bedroom photos were indeed leaked to a handful of tabloids. They have yet to appear online because they are too kinky.
Well, whatever Kelsey is into, we just hope his new fiance is on board!
Do you want to find out what kind of dirty things Kelsey Grammer is into? Or would you prefer to just think of him as good ol' Fraiser Crane?