What is the role model that a parent wants for their 10 year old little girl? Someone who writhes around a pole on stage? A bong smoker? Or maybe someone who has had their fifth tattoo? I think not! Miley Cyrus is making a cringeworthy effort to remove herself from her Disney bopping days as she embedded yet another classless edition to her body art. The 18 year old actress has now branded herself with a dream catcher on her torso which she 'subtly' displayed this week in a top that just happened to have hole cut out of it in that exact area. A friend told sources that the tattoo displays four feathers which represent her four brothers and sisters. She also has a heart and a cross on her fingers, the word "love" on her ear and the phrase "just breathe" on her rib cage in memory of a close friend who died.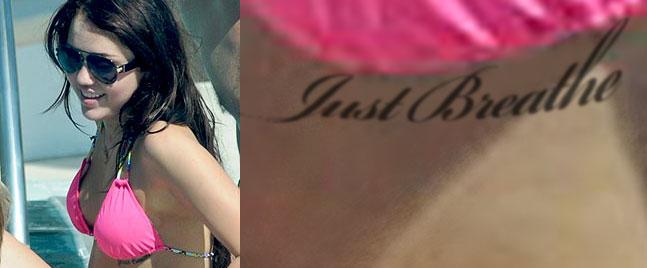 Tattoos are not the only thing that our all grown up Miley has sprawling on her body as she has acquired herself a brand new love interest who she met on the set of her new movie, 'So Uncover'. The British actor Joshua Bowman is playing his breakout role and after spotting him fondling Amy Winehouse last year we would never be the ones to say that he may be using these delightful girls to work his ass to the top. Don't fret for Miley though she is taking it as a bit of fun as sources say that it is just a fling as Miley is now back home in L.A whilst Joshua is still in Louisiana.
We are not sure whether we love or despise Miley however her constant cries for attention are rather Lohanesque and are getting bit boring. Miley can be proud however of her recent accomplishment last week where she beat rival Lindsay Lohan to the top spot as the 'Worst Celebrity Influence Alive' in an AOL poll. With 58% of the 99,000 votes (mainly by 9-15 year old girls), Miley can boast the title for the second year in a row. This may not necessarily be a bad thing for Lindsey oops I mean Miley as the last episode EVER of Hannah Montana was aired last month. Miley is now working her way towards a new raunchier image and hopes to become a credible actress and recording artist. We have every hope for the new, cool Miley, however planning an upcoming duet with teeny bopper and ex Nick Jonas possibly isn't the right way to go.