More on Jessica Simpson's Engagement…..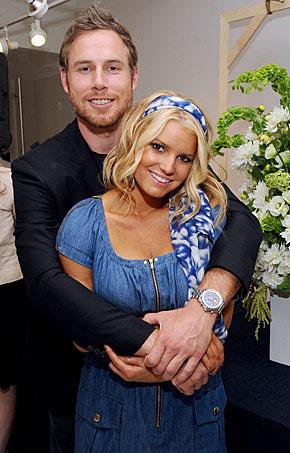 In case you miss my last post- Jessica Simpson and her beau of 5 1/2 months Eric Johnson are engaged! (I know, sooo yesterday's news, right?!)
Jessica's father/manager took to his Twitter account on Sunday and tweeted, "So very happy for Jess and Eric. May they have a lifetime of joy and happiness."
With happiness comes a slew of nasty rumors, and juiciness we all just can't get enough of!
A little lesson in tabloid history- When Simpson married Nick Lachey, they did so without an pre-nup. When Jessica's star status rose, so did the numbers in her bank account. Long story shot, Lachey reportedly walked away with $10 million of his ex's hard earned cash!
Apparently, Simpson is so smitten with her fiance that she is against inking her name on a pre-nup. Jessica! Please protect your $100 million empire! Everyone is rooting for you to happy. Listen, you can give your fiance a weekly allowance to support his hobbies and needs. Ok?
A source close to the Simposon family spilled, saying, "At the moment, Joe is sitting back and being a great father, supporting his daughter and his future son-in-law. However, you can bet after all the excitement has died down, Joe is going to do everything in his power to make sure Jessica doesn't walk down the aisle until Eric signs away any right he might have to Jessica's enormous fortune."
No bets on this one please. Lets just hope they live happily ever after folks.
Bill Clinton Films Cameo for 'The Hangover 2'
Some Presidents take to relaxing at home, penning a book, or trying to make world peace. Not former President William Jefferson Clinton– He does it all!
According to various reports, Bill Clinton shot a cameo for "The Hangover 2" in Thailand! How cool of him!!!
Clinton was spotted on the set's flick in Bangkok, Thailand on Saturday. Sources report that Clinton will indeed play himself in the sequel. I hope the former Mr. President had fun and poked fun of himself!
Clinton was already in Bangkok on business. He delivered a speech on clean energy.
Paul Giamatti is rumored to be en-route to Thaliand to join the director Tod Phillips and stars of the original cast- Bradley Cooper, Ed Helms, Zach Galifianakis and Justin Bartha.
The firm is set to be released in the summer of 2011.