Sandra Bullock and Ryan Reynolds have recently endured very public and difficult breakups, and with the sorrow comes new found love? Well, the longtime friends' romantic lives both took a turn when they were seen getting very cozy over New Years Even in Bullock's hometown Austin, Texas.
Newly released photos show Bullock donned a flapper outfit for the evening, while  Reynolds dressed in a blue collared button down shirt and paired with a gray newsboy cap for the evening. Both camps have denied the rumors, stated that they are simply, just friends. Now insiders are dishing how adorable these two are together.
"They were very playful," says an US Weekly onlooker of Bullock and Reynolds who were caught "smiling the whole time and occasionally touching…What a hot — and quick — rebound for both of them!"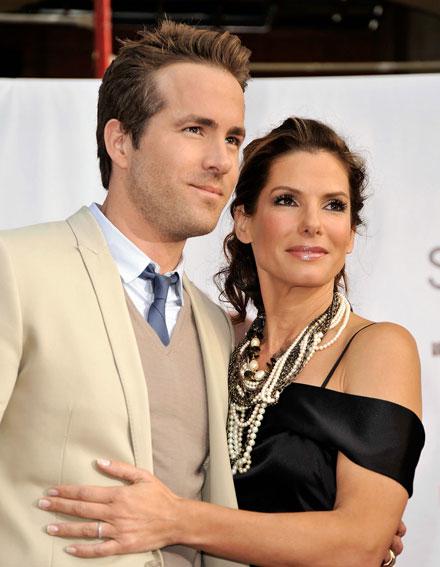 Are the two on-screen lovers taking the romance off the movie set? According to more sources who are eager to spill the beans, they definitely are!
"They're so good together," says a mutual friend says. "They have fantastic chemistry and they're great people."
Another insider cooed that Bullock was "glowing" when she held hands with Reynolds over the New Year holiday.
The duo first met through a mutual producer pal back in 2000, before they met their respective partners. (Bullock was married to macho motorcycle guru-designer Jesse James, Reynolds to starlet Scarlett Johansson .) They remained friends since they met and even shot the romantic comedy 'The Propsal' where in one scene they were in the nude! Reynolds previously described working with Bullock as "driving a Ferrari around," and when these two are working together on set, the giggles never stop.
Wow, a Ferrari. Nice.
Sandra's mouth piece shot down rumors saying, "A group of old friends that included Ryan and Sandra spent New Year's together at Sandra's restaurant Bess Bistro." The rep continued, "They all had a great time ringing in the New Year as they have in the past… as nothing more than friends."
Through their breakups, the pair have certainly bonded over dark, personal periods of their lives. The latest issue of the US Magazine declares "It's On! with a picture of the pair. What do you think? If they aren't already hooking up, should they just give into the rumors and insider talk?