In his first interview since splitting with his starlet wife Eva Longoria two months ago, Parker revealed that basketball and friends are keeping him afloat these days.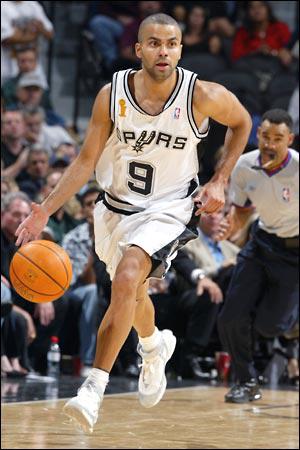 "The most important thing is to stay strong mentally, even if these are very difficult times," he candidly explains to the French newspaper Le Parisien. "I've taken refuge in basketball because that's
what I've done best since my youth."
Parker is attempting to move on with the support of his family and his San Antonio Spurs teammates.  "My whole family has been around me through this," he said. He also added that he is not paying attention to the gossip columns because he doesn't want to read anything written about his failed marriage.
"The best solution is not to read anything and I didn't read anything," Parker continued. "That's not hard."
Fair enough dude!
In a surprise split, Parker and Longoria ended their three year marriage in November. Both cited irreconcilable differences as a reason for the split.
There have been numerous rumors and speculations that Parker cheated on his wife. Allegedly, Longoria found hundreds of text messages to Erin Berry, the now ex-wife of Parker's former San Antonio Spurs
teammate, Brent Barry. Both Parker and Erin Berry denied allegations of adultery.
Now, Parker is finding solace on the basketball court and moving on and trying to piece his heart back together."You have to know how to keep things in perspective," he told Le Parisien. "I am, first of all, a basketball player. I've done this for so very long … For me, it's been essential to be successful on the court."
Longoria has recently made headlines, about her tattoos!
The Desperate Housewives starlet had the roman numeral date of her marriage (7/7/07) tattooed on her wrist. She recently attended Jeremy Renner's birthday party in Los Angeles and in photos, the tattoo
tribute appeared to have faded. Rumors swirled that Longoria was undergoing laser surgery treatment to erase her past.
She took to her Twitter account to explain, "Just so everyone knows I still have all my tattoos! Nothing is being removed, although I am always up for more tattoos!"
Interesting! We would have thought that she would remove such a painful reminder… I guess make up does the trick!
The pair have remained amicable since the split. They have broken bread a couple of times over the past two months in both Los Angeles and Texas.