Victoria  Beckham recently sat down with Vogue UK about her ermmm, new look. Beckham admitted to the magazine that she has removed her breast implants in an effort to get back to a more natural figure.
"No torpedo bazookas," reads the Vogue article. Currently, Beckham is completely focused on her flourishing career in the world of fashion design.
The songstress turned fashion designer has always been quite famous for her size zero figure and en-vogue ensembles, but the footballer's wife continues to believe she isn't anything special. She explains, "I look like a normal girl and try to make the best of what I've got. I'm incredibly ordinary."
Lady, you are fierce.
Victoria's taken a lot of heat for like, never smiling near the paparazzi. She insists she is a happy person,  "I always look at my miserable stupid face and think, Why didn't I just smile? Because I'm quite a happy, smiley person."
"When I see the paparazzi, I freeze," she continues. "Maybe that's my safety wall after all the years of crap. Still, at least the bag looks fabulous."
She also spoke to Vogue about her famous hunk of a husband dishing, "The other morning I looked across at David just after he'd woken up and thought you look really crap. THANK GOD, because this is a man who always looked so perfect."
Beckham also talks about various other aspects of her personal life, including her marriage and the cheating rumors in the newest edition of Vogue UK. The February issue of Vogue is available on news stands today.
Onto, ummm, another pair, it has been reported that recently engaged country crooner LeAnn Rimes recently got breast implants.
Rimes reportedly went under the knife as recent pictures display an evidently bigger chest. A source dished, "She recently got a boob job." The insider continued,  "She's always, always been insecure about her size. She was a small A-cup. She often talked about wanting to get implants. She'd say, "I just want a little bit so they're proportionate to my body.'"
The kicker is that Rimes used to make fun of her fiance's ex-wife, Brandi Glanville about being "plastic."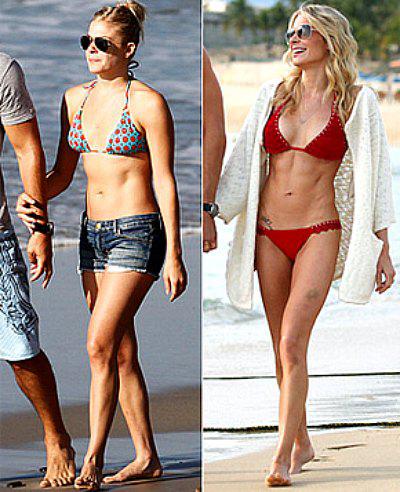 Continues the source, "When Brandi and LeAnn were constantly fighting, one of LeAnn's jabs at Brandi was that she was plastic. Brandi retorted, 'Be careful, honey. That's what Eddie likes. You'll be there someday too.'
Oddly enough, Rimes went to the same plastic surgeon and got the same size as Eddie Cibrian's ex-wife!!!
Weird. Really, really odd. 😉