As annoying as she is with her constant publicity stunts and poor little rich girl routine, we can't help but feel a bit sorry for Lindsay Lohan today as reports came in that as she just got released from rehab she has been wrapped up in yet another mortifying ordeal over wait for it….a stolen necklace. Yes Lindsay has now taken a page out of Winona Ryder's book and has turned her crazy antics to stealing or so it would seem.
Reports suggest that she could be facing some rather hefty legal charges after a pricey gold and semi precious stoned necklace went missing from a jewelery store near Lindsay's home.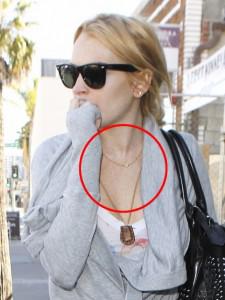 Although Lindsay feels pretty at home now in court after various other run ins with the law, this issue could even land her behind bars! Her attorney Shawn Chapman said that "We vehemently deny these allegations and, if charges are filed, we will fight them in court, not in the press."
The charges are certainly no joke as Lindsay is being faced with felony grand theft of $2,500! Since the incident a search warrent was issued by the LA city police to search her home however the necklace was strangely handed over to the police before they could even do it. The person that did so has remained somewhat mysterious and unknown (although an LA Times report suggested that this inconspicuous someone was connected to Lindsay Lohan…hmmm slightly suspicious). One does beg to question why such a sweet, young, innocent such as Lindsay Lohan would be accused of such an offense. Well the owner of the store claimed that before the necklace was returned, he had photos and video of Lindsay wearing that very necklace!
This is all not too great for Lindsay as she already has an assault charge against her from an incident where she is said to have attacked an employee at the Betty Ford Clinic where she was in rehab. Oh dear what is going to happen now. Our predictions are that these necklace charges may magically disappear and the jewelery store owner will just happen to have a million or so dollars in his pocket to keep shtum. But lets wait and see…