Isn't it so sad when something so beautiful becomes so… well ugly! Once one of the hottest couples in Hollywood, now the slurs and rants between Halle Berry and her estranged lover Gabriel Aubry have become more and more heated as their custody battle over their two year old daughter, Nahla is underway.
Rumours have been flying around that Halle has been treating the father of her child 'like a sperm bank' whereas sources on Halle's side have been claiming that the model treated her 'disgustingly'. Around Christmas time, Halle is said to have been incredibly concerned when Nahla was faced with a visit with her father. A source close to the actress said that "She was crying and kicking and screaming. She was hanging onto her mother's legs so she didn't have to go." Apparently Gabriel's reaction to this was to force his daughter into his car. Following the incident, the relationship between Halle and Gabriel has gone from bad to worse. It has been said that Gabriel has even taken things to a new low and has been making racist comments about his ex and even using the N word! He also is said to have made it clear that he does not want Nahla referred to as black. An ex girlfriend of Gabriel's stated that she was shocked when he got together with Halle as 'he has always been a borderline racist'.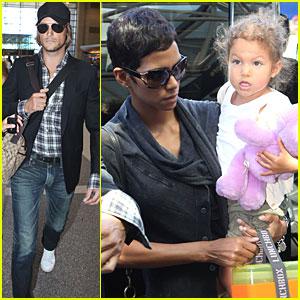 Despite all the vicious rumors circulating the pair, there actually hasn't been much said by Halle and Gabriel themselves and the sources of the information remain anonymous. Knowing fame wannabes, half of these 'close sources' are probably just kids who served them in Bed Bath and Beyond who dream of their moment of fame. Both Halle and Gabriel seem to be moving on fast however as Halle is dating French charmer Oliver Martinez and Gabriel has been seen out and about with Hollywood harlot Kim Kardashian. What everyone seems to forget however is that a child's happiness is at stake and little Nahla is being subjected to real negative publicity that could scar her for her whole life. The last thing we want on our hands is another Lindsay Lohan in the making!