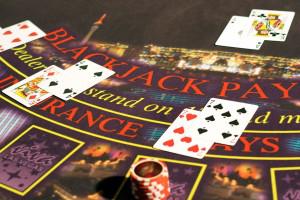 There are two types of gamblers – there's the amateur type that play for fun and want to engage in a form of recreation that incorporates a healthy dose of risk and excitement. And there's the more professional committed type that play to win. The demarcation between these two types is clarified by two things: the amount of time and effort dedicated to learning the rules and gameplay, and the patience to temper patience with intelligent action.
It shouldn't come as a surprise then that the number of individuals who make up this latter group are a small and elite collection of players who have spent a considerable amount of time becoming proficient at their craft. As with any casino game, the house-edge is the biggest obstacle to overcome. The house-edge is the difference between a game's true odds and the additional restriction on those odds which casinos place on a game, which adds an extra element of risk and flair. Learning which games have the lowest house-edge, and how to circumnavigate the most common traps laid down by them, is the course of any professional endeavour in gambling.
With online casinos, this takes on a new dimension. The psychology and human interaction that is a further obstacle in playing casino games is eliminated: on one hand this may take away from the social element of the game, but it also allows a player to devote his full and unmitigated attention to a game, and for the latter type of gambler this is an excellent opportunity to shine.
Especially because access to the internet allows for an additional boon you wouldn't have in a real casino.
The primary indicator of whether you have a chance at winning at a game is to look at a given casino game's RTP (Return to Player) rate, which indicates the likely percentage of money returned both in the short and long term play of a table or slot game. The most reputed online casinos are audited by third party software consultants that ensures fair gambling, and you can also find the audit percentages of a casino's games.
The other indicator is a given game's natural house-edge – games like Blackjack and Poker require some strategy and thinking, which can lower the house-edge to 0.28%, while 'set' games like Roulette come in at 5.26% (American) and don't change. By optimizing your research of favourite games, the corresponding RTP rates, and the audited house-edge percentages, it's possible for even the greenest online casino player to be able to warrant a significant return on their bets. Being able to play the same games as a real casino but online also offers the convenience of having an automatic credit account, as well as the option of playing games for free – perhaps you don't feel completely up to your game one night; you can still work on your strategy and learn some of the quirks of a given game by playing for free without worrying about losing money.
Regardless of what category of player you fall into – amateur or professional – online casino games designed to be fun, and they are an excellent (and often rewarding) form of entertainment and recreation. But it's important to remember that they are games, they aren't your job, and focussing too much on trying to earn a profit can be both a frustrating and disheartening experience. Playing at Slots or Baccarat or Poker means you have a passion for the game, for its intricacies and the level of difficulty and focus it requires, and that's what online casinos offer: an opportunity to experience that realm cheaply and from the comfort of a computer screen.