For the woman who advises us all on how to live our lives she certainly seems to have had a few slips of her own as the spotlight is on her today as her ex boyfriend, Haitian filmmaker Reginald Chevalie. The 51 year old claims that he had a 4 month relationship with the TV tycoon only to suddenly be kicked out to the curb when he was out working abroad! Sound ruthless? Well Chevalie went on to explain how he never even heard from her again and with no explanation, 'that was it. No phone call. No good-bye. Nothing. She was as cold as ice.' He soon came to his own assumptions as to the reason why they broke up as soon after Oprah was seen out and about with her now boyfriend, Stedman Graham. What seems rather strange is how Chevalie who is 7 years Oprah's junior said that she was pushing for marriage, however 26 years have now passed and she has still not married Stedman.
Chevalie met Oprah when he appeared on the show in a topic about celebrity looky-likeys. He was the Billy Dee Williams lookalike (thats the guy who played Lando Calrissian in Star Wars in case you're not a Sci-Fi buff) and Oprah was so taken with him that she invited him for dinner that night. To us the reasons that Oprah broke up with Chevalie seem to have become clearly obvious…Oprah Whinfrey the Queen of daytime television can't be dating a doppleganger!! It's like spotting Paris Hilton with a fake Prada!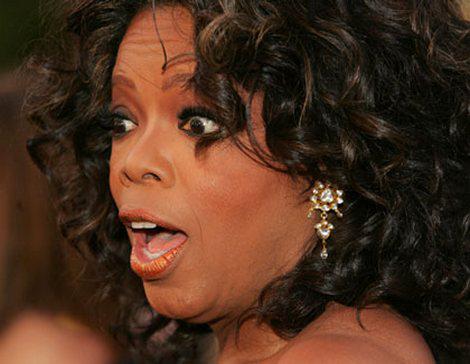 Chevalie is not the only bitter reject from Oprah's past to have grasped at any publicity that thry can gain on her behalf. as the release of the unauthorized biography that came out last year sees many people (most whom we predict Oprah wouldn't even recognize if they passed her on the street) exposing 'information' from her past. Rumors include Oprah's apparently lesbian affair with her best friend, information about her being a prostitute and details of her abusive childhood.