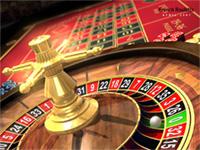 French Roulette is one of the variations of the popular casino game roulette. In this game, you place a bet on the number that you believe the little roulette ball will land on after the dealer spins the roulette. However, the French roulette has some variations that make it different, and some may even say better, than its relatives the European and American roulettes.
The good news is that, even though French roulette is not one of the most popular games offered at casinos, we have moved far from the days in which the only way to play the game was going to France or the Monte Carlo. That is why in this post I want to talk about what makes French roulette different from other variations of the game so that if you ever run across it you will not feel entirely lost.
French roulette comes with the single-zero roulette wheel, the La Partage rule, the Call Bets, and those features make it different from the other versions of roulette. The first thing that stands out is that all the numbers on the table are red, this is just because the French like the design but it does not mean anything. The numbers alternate in red and black, so you still can place a bet on the color.
The French roulette table is, naturally, in French. If you are planning to play you should get familiar with some basic French terms that I will post later this week. The French roulette only comes with one zero, like the European roulette which means you have a higher chance of winning than in American roulette.
On my next post I will talk a little bit about French roulette vocabulary and the La Partage feature which makes it so special. Until the, happy wagering!