If you've browsed around this blog, you may have noticed me talk about a few different casino games that have become uber popular in Asia, such as Baccarat and Pai Gow Poker. Continuing on that trend is the topic of today's first strategy article on the Asian sensation, Sic Bo.
If you have ever played in Macau before, you will have seen this game everywhere. If you have only played casino games in the States, you may have seen the occasional Sic Bo table tucked away in the corner of the floor next to the Pai Gow table.
Although not the most popular game in America, you can always find a Sic Bo table here on Silver Oak Casino. So if you're ready, let's learn how to Play Sic Bo!
Sic Bo Table
When you open up the game at Silver Oak Casino, the Sic Bo table looks like this: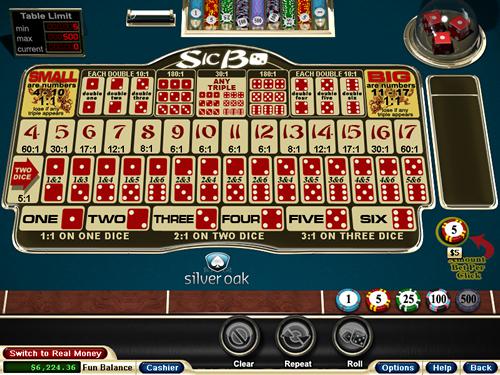 I know, at first glance, the table looks a little intimidating. Even though it looks overwhelming, the game is actually a snap once you get the hang of it.
As you may have guessed by now, Sic Bo is a dice game. You see the three dice sitting under the clear dome in the upper right hand corner of the Sic Bo game screen? The outcome of all of your bets depend on how those dice land.
All of the various numbers and dice pictured on the board correspond to different bets on how these three dice fall. But before we get into what all the different bets are, let's take a look at how a full game of Sic Bo would be played.
How To Play Sic Bo
To start, choose your wager denomination by clicking on the casino chips in the lower right hand corner of the Sic Bo game screen until your desired bet amount is stacked up in the "Amount Bet Per Click" section of the screen seen here highlighted in blue: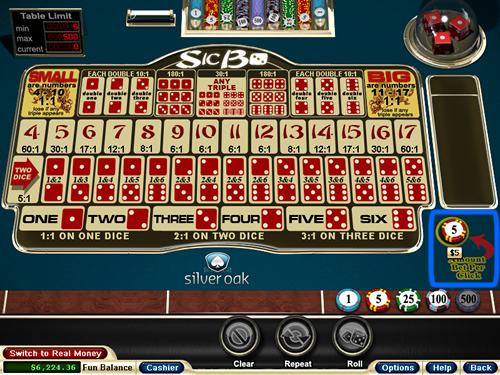 The next step is just like roulette or craps. To make a bet, simply put your chips in the square that you would like to bet on (we'll cover what all of the different bets are soon!).
When you place your chips on a square it will look like this (all of the bets are circled in blue):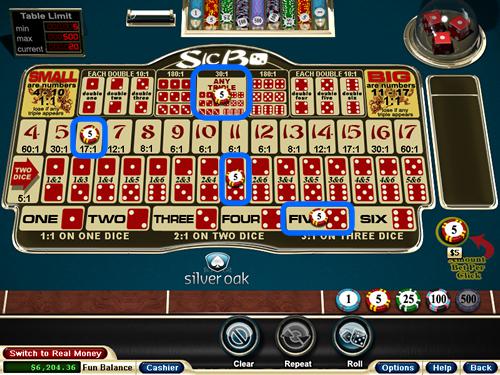 Once you have placed your bets, you simply click on the "Roll" button to roll the dice and see what you win!
In the next edition of the How To Play Sic Bo series, we'll take a look at all of the different bets you can make in Sic Bo and how to play perfect Sic Bo strategy.
If you are itchin' to get started playing Sic Bo right now, just click the Play Now button below to download the FREE Silver Oak software which comes with this game and over 130 other online casino games!