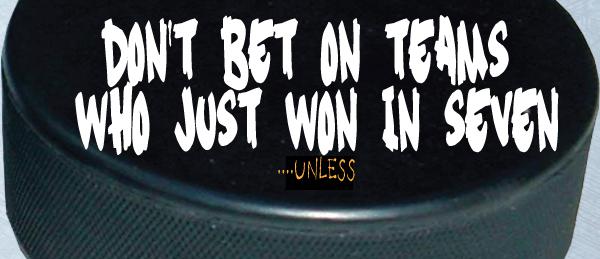 For fans, playoff series' that go to 7 games are awesome. The anticipation before the game begins yields to a drama and intensity that is so rarely matched in other spectrums of daily life. People are drawn to them even when their team isn't involved. We just love seeing how it all will unfold. It's like reality tv except with athletes instead of obnoxious/entitled wannabe actors.
So much joy and satisfaction comes from winning a seventh game, but what happens to these teams in subsequent rounds? Do they carry forward momentum or is the mental and physical drain just too much to overcome?
This infographic breaks down the past 24 years of NHL playoff action (since 1986-87 was the year the NHL changed each round to best-of-7) and looks specifically at the teams who won a series (or more than one) in 7 games. The numbers are quite interesting.
A couple statistics stick out in particular:
1) No team has ever won Round 2 and Round 3 in 7 games.
2) No team has ever won a series after winning the first two rounds in 7 games.

If this infographic puts you in a gambling mood, you should play free casino games.
To embed this infographic click in the box below then hit Ctrl-C to copy.