Estranged exes Kelsey and Camille Grammer met for the first time in months on Thursday. It has also been reported that Kelsey brought his new fiance Kayte Walsh along for the meeting.
Camille dishes, "I saw Kelsey today, and I met Kayte for the first time." She continued, "She was nice, and we both said hello. She has a very strong handshake," the former Playboy modeled dished with a coy
giggle. "It was uncomfortable. Kelsey looked shocked. The look on his face!"
She continued, "It's the first time I've seen him and her together. And with my children, that was uncomfortable."
We bet!
Kelsey unexpectedly filed for divorce this past summer after meeting and falling in love with 29-year old Walsh. The Grammers had been married for 13 years and this will be Kelsey's third marriage.
Camille explained that she intends to be the bigger person during the ordeal, and take the high road for the sake of her two children.
"It's really important for me and Kelsey to be friends and amicable for our children's sake," she explained. "Because you know, we have to co-parent and that's the correct way to do it."
Their divorce isn't finalized yet, but that's not stopping Grammer from choosing a date for his next wedding. Kelsey appeared as a guest star on 'The Late Show with David Letterman' on Thursday. He told the talk show host that he plans to make things official with his new British love sometime next month.
"Kayte's my new girl, and we're planning to get married soon," he cooed. He also revealed that he has no intentions of signing a prenup, even though his current and third divorce is will reportedly cost him upwards of $50 million.
Ouch! That hurts to type!!! $50 million!!! Sheesh!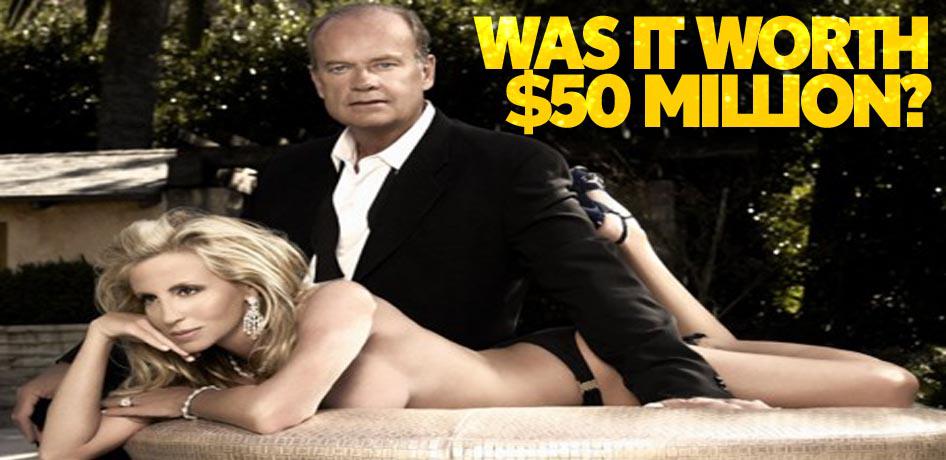 Camille recently made some weird accusations about her ex on Howard Stern's radio show. She implied that her ex enjoyed playing dress up in women's clothing. She later admitted that she was joking about her comments. She added, "I have known Howard for years, and when you agree to do his show you know you have to play."
You can catch Camille on 'The Real Housewives of Beverly Hills' and Kelsey on re-runs of the acclaimed series Fraiser and Cheers.