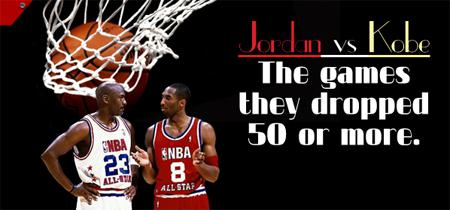 Michael Jordan and Kobe Bryant have had some amazing scoring performances in their illustrious NBA careers. Michael's hit for 50 or more on 39 occasions including 8 times in the playoffs. Kobe's reached the half-century mark 25 times and, on January 22, 2006, had the second highest scoring performance in NBA history when he dropped 81 on the Raptors.
Both players have hit for 60(+) five times in their careers.
When you're an athlete considered the greatest your sport has ever seen, your legacy will consistently be compared. Younger, stronger, faster up-n-comers will inevitably rise to challenge for a chance to sit on the thrown. Michael Jordan and Kobe Bryant are 2 of the greatest to ever set foot on the hardwood and they have been the subject of comparison for years. MJ's legacy and stronghold on the top spot in the sport is well deserved and backed by both numbers and championships.
This infographic examines the details and frequency of the times these two great players have achieved, and eclipsed, the 50-point-game milestone. There is also a ranking of each players five exquisite 60-point(+) games and how they stack up against each other. Be sure to click on the little tv's to watch the highlights. All of these performances were brilliant and historic.
If this infographic put you in a lucky mood, check out our free casino games page.