Congratulations to Miss Nebraska!
Nebraskan native, Teresa Scanlan was crowned Miss America on Saturday night at the Planet Hollywood Resort & Casino in Las Vegas. Scanlan beat 52 other young hopeful, gorgeous women from across the United States. The 2011 show was the 90th anniversary of the Miss America pageant.
The hodgepodge of star-studded judges for the evening included Miss America 1990 Dr. Debbye Turner Bell, "The View" co-host Joy Behar, "Dancing With the Stars" professional Tony Dovolani, shoe designer
Taryn Rose "Desperate Housewives" creator Marc Cherry, veteran "Taxi" alum Marilu Henner, and country music legend Mark Wills. This year's hosts were Brooke Burke and Chris Harrison.
The four other Miss America finalists were Emoly West of Oklahoma, Jacquie Brown of Washington, Jalee Fuselier of Hawaii and Alyse Eady of Arkansas.
Scanlan inherited the crown after strutting what the good lord gave her in a simple black bikini and a chic white evening gown. She performed a beautiful rendition of "White Water Chopsticks" on the piano, showing off her musical talents.
She was the only girl who's talent wasn't dancing or singing. However, we thoroughly enjoyed the yodeling ventriloquist, Miss Arkansas.
Scanlan faced a tough question regarding the Wikileaks controversy.
The poised seventeen year old explained, "Our security as a country must come first," but added that she "understood that questions of personal liberties were involved." Sounds like she is on the road to
diplomacy!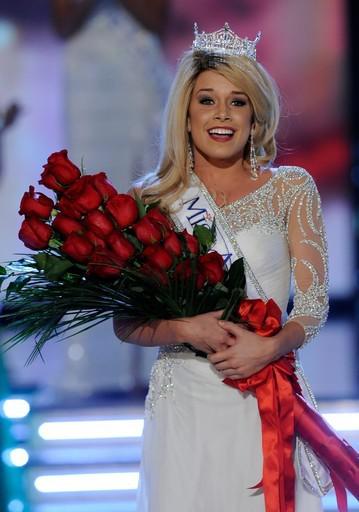 17 year old Scanlan, recently graduated high school from the Nebraska town of Gering. Scanlan won a $50,000 scholarship from winning the pageant and plans to study American politics at Patrick Henry College in Virginia after her year long reign as Miss America. Scanlan also said that she hopes to attend law school, become a judge and eventually a politician.
Scanlan is the youngest winner of the Miss America pageant since it began in 1921. At the time Margaret Gorman of the District of Columbia took the title at just 15. According to the AP, her win marks the
first time that the title has gone to a Nebraska native.
We sincerely look forward to seeing what you do in 2011 Miss Nebraska!
Congratulations and Good Luck!!!