While the history of gaming in general has been talked about for decades, we had never seen an attempt at compiling complete history of online multiplayer gaming.
After a fruitless search we decided it was time for someone to take on the project and get it done, which is exactly what we did. The infographic below details all of the most important moments in the world of multiplayer online gaming.
The one thing which came as a surprise while building this was the large number of online multiplayer games available before the internet (in the form we know it today) even existed.
While not everything on this list is technically "online multiplayer" we feel that the early peer-to-peer and local networked games are a fundamental step in the evolution of online gaming, thus making it on our list.
We tried to ensure this list is as detailed as possible, but I'm sure some of you will be deeply offended for us neglecting to include your favorite game. If so, please drop a comment to let us know what we missed.
Click on the graphic to see the full version.
Note: This infographic is HUGE (about 4meg) it may take a little while to load.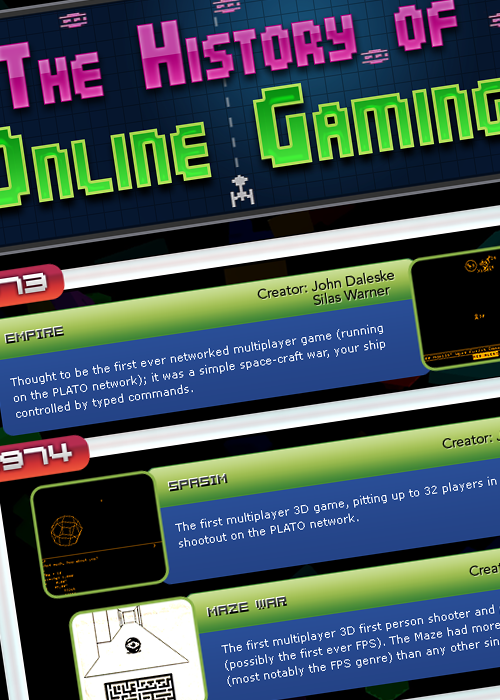 To embed this image on your webpage (linked to the full size) click in the box below and hit Ctrl-C to copy the code. Adding the full version directly to your page may greatly affect the load-speed of your site; you've been warned:
Transcript of the Infographic Timeline:
1973 – Empire – John Daleske, Silas Warner – Thought to be the first ever networked multiplayer game (running on the PLATO network); it was a simple space-craft war, your ship controlled by typed commands.
1974 – Spasim – Jim Bowery – The first multiplayer 3D game, pitting up to 32 players in a space-craft shootout on the PLATO network.
1974 – Maze War – Steve Colley – The first multiplayer 3D first person shooter and p2p game ever (possibly the first ever FPS). The Maze had more impact on gaming (most notably the FPS genre) than any other single title in history.
1977 – Moria – Kevet Duncombe – A wireframe dungeon crawl allowing up to 10 players to play together in a party (on the PLATO network). The first game to dynamically generate the dungeons, as opposed to pre-computing them.
1977 – Oubliette – Jim Schwaiger – A multiplayer game for the PLATO network which was so difficult it was impossible to play alone, one had to run in groups simply to survive.
1978 – Multi-User Dungeon (MUD) – Roy Trubshaw – The first virtual world, allowing users to interact with objects and each other. Text based running on Telnet or the MUD client.
1984 – Multi-Access Dungeon (MAD) – Bruno Chabrier, Vincent Lextrait – Similar to MUD, only running on the BITNET network. MAD, the first ever global MMORPG become so popular it saturated the network, causing it to be banned on all of BITNET after just 2 years.
1985 – Islands of Kesmai – CompuServe – The first commercial multiplayer online role playing game (ASCII text based graphics). The game was free with your CompuServe connection fee of $6/hour for a 300 baud modem, $12/h for a 1200 baud.
1986 – Habitat – Randy Farmer and Chip Morningstar – The first attempt at a graphically based large-scale online virtual community, Developed by Lucasfilm. (NOTE: though graphical this game did not have a 3D environment or use any immersion techniques)
1986 – SGI Dogfight – Gary Tarolli – While written in 1983, in 1986 Dogfight was adapted to add UDP support, making it the first game ever to use the Internet Protocol Suite.
1987 – Air Warrior – Kesmai – A black and white wireframe flight sim/dogfight game running on the GEnie network, costing over $10/hour.
1988 – Netrek – Kevin Smith, Scott Silvey – The first game to use both TCD and UDP, this Star Trek based space shooter became the first internet team game and the first game to use metaservers to locate an open game
1988 – Federation – ibgames – A text-based online game, possibly the first to have users acquire increases in ranks through completing tasks. Federation originally ran on the CompuServe network.
1989 – SGI Dogfight – Gary Tarolli – In 1989 IP Multicast capability was added, making Dogfight the first game (and only 3rd application) to receive a Multicast IP assignment: 224.0.1.2
1990 – Various – Sega – Always too far ahead of their time, Sega introduced the first console based online gaming option in 1990, the Meganet, in Japan, but due to lack of interest it was dropped and never launched in North America.
1991 – Neverwinter Nights – Don Daglow, Cathryn Mataga – The first graphical (3D) MMORPG. Originally ran on the AOL network for the standard $6/hour connection fee.
1992 – The Shadow of Yserbius – Sierra Online – Both playable as single-player or online. The online game cost $6/hour, but offered an unlimited package for $115/month, making it the first online game to run on a monthly subscription.
1993 – Doom – ID Software – Doom quickly became the most storied FPS of all time, partially thanks to its Deathmatch feature. Doom Deathmatches became so popular it caused load problems on many of the networks used to play the game.
1994 – Marathon – Bungee – Marathon for the Macintosh was the first FPS to incorporate vertical aiming and freelook, along with a number of new multiplayer modes such as King of the Hill and Co-operative play.
1995 – Command & Conquer – Westwood Studios – The first successful RTS game to feature four-player online multiplayer. This game literally changed the world of gaming forever becoming the standard which all RTS games would be measured.
1995 – Warcraft II – Blizzard Entertainment – Launched in the same year as Command & Conquer Warcraft II quickly took the throne as the world's leading RTS game, selling over 2 million copies. At launch this game only supported LAN play and needed Kali, a program allowing LAN only games to work over TCP.
1996 – Meridian 59 – 3DO – One of the first Internet MMORPGs, the first Internet game from a major publisher and the first MMORPG to introduce the flat monthly subscription fee. It also included a 3D engine, allowing players to experience the game world through the eyes of their characters.
1996 – Microgaming – Microgaming – The first online casino went live in 1996, run by Microgaming which has gone on to create the software for many of the current online casinos.
1996 – Quake – ID Software – Quake was the first FPS to view online play as an integral part of the product, rather than treating online play as an add-on. It's also the first time clans became part of the FPS world.
1996 – Duke Nukem 3D – 3D Realms – The game with more attitude than any other offered IPX and LAN online play. While the multiplayer was never really a huge pull the game itself helped shape the future of video games as we know it.
1996 – GameSpy – GameSpy – With so many mods available for Quake, Mark Surfas created GameSpy (then Qspy) as a way for gamers to find and join various Quake games. It's since gone on to power the majority of all online gaming access.
1996 – Diablo – Blizzard Entertainment – Blizzard's tremendously successful action-role playing game Diablo. Diablo sold over 2.5 million copies and launched with Battle.net, Blizzards new online gaming service integrated into their games.
1996 – Intertops – Intertops – in 1996 intertops.com booked the first ever online sports bet, a $50 odds-on wager on the outcome of Tottenham Hotspur vs. Hereford United. The bettor, Jukka Honkavaara, earned a total profit of $2 for his victory.
1997 – Quake II – ID Software – Not actually a sequel to Quake, this game's engine was the framework used to build Half Life.
1997 – Ultima Online – Richard Garriott – Credited with popularizing the MMORPG genre, Ultima Online became the first game to reach over 100,000 subscribers, doing it in just six months.
1998 – Penny Arcade – Jerry Holkins, Mike Krahulik – Since the first strip going live in 1998 Penny Arcade has grown to become the most respected video game oriented comic/blog in the world, earning them a spot as Time Mag's 14th most influential Artist in the world.
1998 – Planet Poker – Planet Poker – On January 1st 1998 the first hand of real money online poker was dealt by the Planet Poker servers.
1998 – StarCraft – Blizzard Entertainment – The follow-up to the Warcraft series, StarCraft quickly became one of the greatest selling PC games of all time, selling over 11 million copies. Online play supported up to 8 players through battle.net
1999 – Everquest – Brad McQuaid, Steve Clover, and Bill Trost – Released and run by Sony, they confirmed this to be the first game to ever have more than 100,000 concurrent users. It also was the first game to have in-game items sold for real-world money.
1999 – Ashron's Call – Microsoft – The first MMORPG to use dynamic load balancing, allowing a seamless experience when travelling across the virtual world, and allowing more concurrent players into the same world.
1999 – Civilization II: Multiplayer Gold Edition – MicroProse – Rated as the 3rd greatest video game of all time by IGN, the multiplayer version of CivII came out 3 years after the original release in 1996.
1999 – Team Fortress Classic – Valve – While released by Valve, TFC was developed by John Cook and Robin Walker, originally for Quake. The Half Life mod version was released as a fee ad-on for Half Life owners.
1999 – Snake II – Nokia – The first ever mobile multiplayer game came stock on the Nokia 7110. Snake II allowed two players to play multiplayer through the phone's infrared connections.
2000 – Diablo II – Blizzard Entertainment – Awarded a Guinness World Record for the fastest selling computer game with over 1 million copies sold in just two weeks. This was the first Blizzard game to store user data on the blizzard servers and allow a player to use their local LAN character to play online.
2000 – Counter-Strike – Valve – A mod for the stock Half Life engine CS was an online-only FPS selling more than 4 million copies (with countless free copies used with Half Life).
2000 – Day of Defeat – Valve – Originally launched as a 3rd party Mod, DoD became popular enough for Valve to acquire the creators, officially launching the game through steam three years later.
2001 – Halo – Bungie – While Halo didn't invent the FPS, they certainly refined it for the console. While XBLOX live didn't exist yet, this game supported multiplayer (up to 16 players) via system link.
2001 – Dark Age of Camelot – Mythic Entertainment – With its massive PvP and RvR fighting options, DAoC quickly grew in popularity surpassing both Ultima Online and Ashron's Call to become Everquest's main rival.
2002 – Warcraft III – Blizzard Entertainment – The third of the war craft series, sold over 4.5 million copies with online play controlled through Battle.net.
2002 – Final Fantasy XI – Square – With one of the most storied names in RPGs FFXI saw over up to 300,000 players logged in per day by 2006, with over 2 million total users logged by 2009
2002 – Ragnarok Online – Gravity Corp – Despite being almost completely unknown in NA, this MMORPG took Asia by storm, claiming over 25 million subscribers (a number which has been questioned by many).
2002 – XBOX Live – Microsoft – Microsoft launched XBOX live, their pay-to-play platform, for all XBOX online gaming.
2002 – Steam – Valve – The Steam network launched in 2002 with the Beta for CS1.6. This network has changed how many users buy, store and play online games.
2002 – Battlefield 1942 – Electronic Arts – Despite the world having seemed to be sick of WWII themed games, Battlefield 1942 blew the top off the FPS market selling over 3 million copies.
2002 – Sims Online – Electronic Arts – After the massive success of the Sims an online version seemed natural, only EA completely dropped the ball losing out to Second Life (which launched a year later). Sims Online was officially shut down in 2007.
2003 – Call of Duty – Infinity Ward – The first release from the then new studio, Call of Duty won over 90 game of the year awards.
2003 – PokerStars – PokerStars – The poker boom started after a PokerStars satellite qualifier, Chris Moneymaker, won the WSOP Main Event in 2003, bringing the yearly revenue from online poker to an estimated 2.4 billion by 2005
2003 – Lineage II – NCsoft – A sequel to the massive success of Lineage, this game achieved massive success in Asia becoming the second most popular MMORPG in the world with over 2.25 million active subscribers.
2003 – Second Life – Linden Lab – By the end of 2010 over 21 million accounts had been registered, although it's unknown how many of these were active or duplicates.
2004 – City of Heroes – NCsoft – The super-hero based MMORPG acquired over 120k subscribers, and has recently (in 2011) added a free to play model with limited game features.
2004 – Word of Warcraft – Blizzard Entertainment – Despite launching at the same time as EverQuest II, WoW quickly became the most popular MMORPG with over 12 million confirmed active subscribers.
2007 – Zynga – Zynga – With launches acquiring over 100,000 users on the first day, it's no wonder how Zynga claims over 270 million active users across their multiple Facebook games.
2007 – Zynga Poker – Zynga – After just four years of being online, and having all games played for imaginary "Zynga chips", Zynga poker has acquired a staggering 36 million active users.
2007 – Call of Duty: Modern Warfare – Infinity Ward – The fourth of the CoD series sold over 13 million copies.
2009 – Call of Duty: Modern Warfare 2 – Infinity Ward – The sequel to the Modern Warfare franchise saw 4.7 million copies sold in just 24 hours, with over 20 million copies sold world-wide post launch.
2010 – StarCraft II – Blizzard Entertainment – This long awaited sequel to Blizzard's best-selling non-subscription game sold over 3 million copies in the first month alone.
2011 – Duke Nukem Forever – 3D Realms – In development since 1996, this is the title gamers never thought they'd actually see. Unfortunately it was impossible to live up to 15 years hype and the game is regarded as an epic failure.