Ah, the bonus round. It's like the bulk bin candy section, or getting to run around a toy store to grab as many things off your wish list as you can. It's a free-for-all of opportunity where the outside world is momentarily put on pause. For the brief time that it lasts, it's pure bliss.
Bonus rounds in online slots come in a variety of different shapes and sizes. Let's take a look at some of the most popular and otherwise noteworthy types of bonus rounds that there are. The statistical outcomes for slot machines are largely kept a secret, so commenting on the effectiveness of each type will be hard. However, we can talk about the type of experience that each one provides.
Which one is the most fun?

The Different Types of Bonus Rounds
1. The Don't Make the Selection that Ends the Game Bonus
What is is: Players pick any number of choices from a selection of preferential things (bet multipliers and free spins), with the caveat that there is lurking within that selection a bunch of "game over" type of choices too.
Why it's great: Usually these games play out through multiple rounds, with the prizes getting more lucrative as the number of "game over" selections increase. So, if you are lucky, you can generally win a considerable amount of cash so long as you avoid these bonus round "landmines" that threaten to blow up your momentum.
Why it's not so great: So if you make the wrong selection, it's game over.
2. Bonus Spins
What is is: You are granted a bunch of spins that you do not have to pay for. There may be other bonus elements mixed in, like wild or likewise special (blocks of) slots, but it's largely just what is normally happening, happening automatically and free of charge.
Why it's great: Generally you get quite a few spins, so there is the chance that you could start stacking up multipliers for an incredible payoff.
Why it's not so great: While you do get many spins, it is often the case that you have to sit there watching spin after spin that isn't winning anything at all.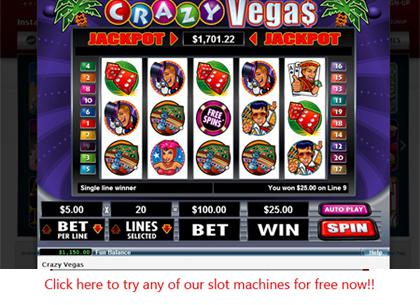 3. Straight-Up Credits Bonus
What is is: You receive a static amount of credits.
Why it's great: There is no confusion: you know exactly what you are getting.
Why it's not so great: There differentiating thing between hitting a bonus, and hitting a large payout from the normal symbols is usually some sort of variable element. That is to say, it's just not as fun.
4. The Max Spin Progressive Bonus
What is is: This is some sort of bonus that has an extremely large payout that, should you hit it, they are likely going to put your picture on the wall. It is the mother ship of slot machine payouts that spawns off lesser casino jackpots. It's the main event. The big kahuna.
Why it's great: If you happen to win this bonus, you win a ton of money.
Why it's not so great: You have to play max bet, so you this is a bet big to win big type of situation.
5. Cinematic Interactive
What is is: This is the type of slot machine you can hear taking off into space from across the casino floor when the bonus round hits. It's usually some sort of Hollywood movie that has been translated into slots.
Why it's great: It's an experience to say the least.
Why it's not so great: Once you go through the process once, these director's extended cut slot machine bonus scenes tend to take a while to play through. The entire process can become tedious, and with the sound effects from a movie like, say, Top Gun, blasting into your ears, it can become overwhelming quickly.