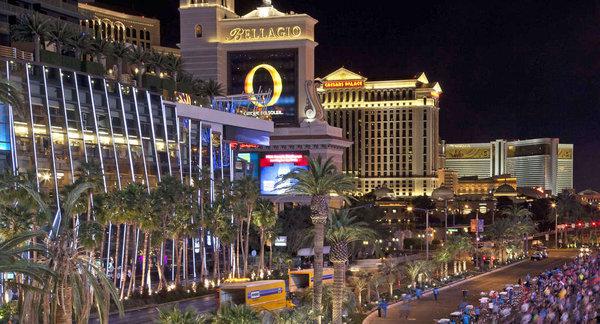 So you decided that the advertisement for a $108 round-trip to Vegas was just a bit too tempting to pass up. You and your friends are going to head down to Sin City to try your hand at a little bit of gambling, a little bit of drinking, and a little bit of all-around high rolling.
Sounds great except for one thing: the Vegas experience itself is a gamble in many ways. You are entering into a world of excitement, but the underlying premise behind most of it is that the businesses and individuals around you—all of them—are trying to get their hands on your wallet. It's fun, and it's part of the experience, but a lot can go wrong without a little bit of tutelage.
You could end up having a couple too many drinks and lose more money than you can afford, or something much worse. Stick with our advice and you will cross the Nevada border with positive memories and pockets of cash, instead of waking up in an adult sized dog costume with genitals drawn on your forehead.
1. If You Win Big, Buy Something (Tangible)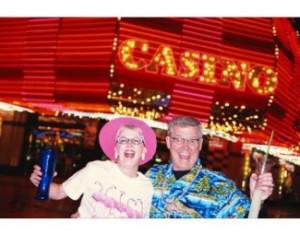 You don't want to hit some huge jackpot and then lose all that money back into various casinos on the strip. That's not a cool story you can tell back home. So if you do find yourself collecting a large payout, consider buying yourself something to show for it. Take the opportunity to explore all the great sights that Las Vegas as a whole has to offer. Or, if you want, just settle for a ticket to the Blue Man Group, because let's be honest: groups of blue men are usually pretty entertaining. If you start off down the strip looking for anything but live entertainment, or food, chances are you will be walking for a while before you give up and sit down at the nearest slot machine.
There are, however, a couple hidden gems: the Caesars' Forum Shops and the Miracle Mile at Planet Hollywood are good options, (or the Aria Shopping Complex if you can afford the ultra luxury brands), but I would advise just hopping into a taxi and heading to one of the outdoor malls that are nearby a short drive from the strip. They are lightly misted all day (if it's hot) by sprinklers installed above the walkways. It's the perfect cooldown as you shop to make yourself look hot. Plus, nothing feels better than paying for a new shirt with a two fives and twenty-seven ones.
2. Mix It Up with Some Sports Betting
Put simply, everywhere else in the United States sports betting is illegal, but in Las Vegas it is not. Capitalize on this opportunity with some of the most grandiose sports viewing areas in the Western Hemisphere. Screens bigger than your garage door, and sound systems that can be heard in Ohio. Throw down a big bet and then sit back for a while and relax. No flashing lights, and no hitting the felt of the table with your hand; just beers and cheers.
If you happen to coincide your trip with March Madness, you will elevate the experience to a whole other level. People from all around the world, mostly gambling professionals, fly in every year specifically to partake in the madness that is March Madness. During this time, the city transforms into another world where college basketball is elevated above the sanctity of marriage, which in Vegas can be bought at 4am.
3. Fake Being a a High Roller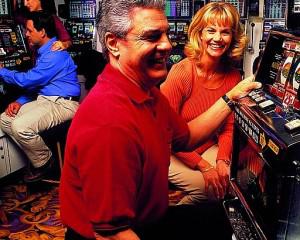 If you were reading the intro and you were thinking to yourself, "$108? I have tons of free complimentary rooms I could use," then you, my friend, are ahead of the game. So, how does one get those complementary rooms?One method (admittedly stolen from the Guardian.co.uk) is to ask for a marker that is much higher than any amount you intend to lose. So if you allot yourself $500, then ask for a $5000 marker. That is bound to turn some heads, and perhaps the doors to some complementary rooms. Remember, there is no harm in asking—for anything (within lawful reason.) Most Vegas hotels are usually nowhere close to capacity, so they have many rooms to spare for complimentary stays, and upgrades from existing ones. For some people, the very first thing they do when checking into a hotel in Vegas is ask for an upgrade just on the principal. Try it out and see what happens, but maybe mention out loud you're meeting up with Kanye later just to give it some added punch.
4. Gamble Like One of the Locals
If you did not already realize, I will be the one to tell you now: the strip is the worst place to gamble. That is, statistically. It's great for all of the lights and the glamour, and those weird guys flicking porno cards at you as you walk past, but try spending some time in some of the casinos less gambled. You will find that (to stay in competition) most of these "B-Level" spots offer the best benefits to the player as a tradeoff to having slightly older carpeting and headliners like Louie Anderson. With the best statistical edge, and the underrated comedic talent of Louie Anderson, naturally these casinos are the favorite spots for most of the locals in Vegas.
That said, one caveat should be mentioned: sitting down and playing with a seasoned Las Vegas gambler at say, a blackjack table, is definitely advised—you will gain some of their wisdom, and hopefully hear a couple of good stories and learn the best nearby place for late night food. On the other hand, if you are going to sit down at a poker table with five different individuals who are joking and laughing about growing up at Las Vegas High, then you, my friend, are about to get check-raised into the Stone Age.