Do you know what an online casino bonus is? Fun, that's what it is. It's like having multiple angels massage your back while your bank account swells with the influx of a mountainous pile of cash. It's like having reality open up, and then heaven starts leaking out. It is surely the creation of some sort of a benevolent deity. It is a transcendental moment. Words fail to describing the joy.
As a way to bring in more patrons, especially newcomers to the gambling scene, many online casinos have adopted bonuses for new members who sign up. It's the only way to go. Not only is it an excellent way not only to promote casino culture, but in terms of easing new players into games like slots, poker, or blackjack it's also very generous and tries to give a reasonable handicap to their customers. Let's take a look at what you need to know about the online casino bonus and all that it entails.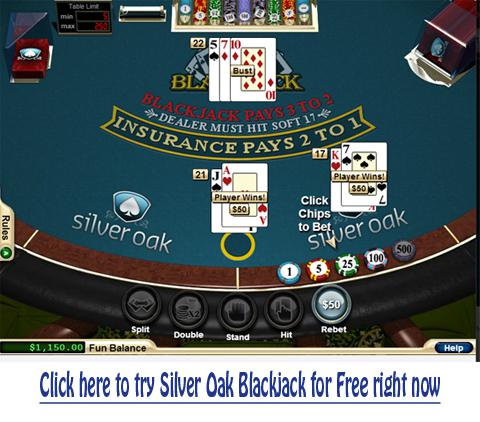 There is a variety of different bonuses offered by online casinos and some are more helpful than others. In order to maintain their high quality standards of customer satisfaction, Silver Oak has re-designed its approach completely. We've redesigned our bonus from the ground up, and are currently offering a $10,000 bonus to new members. That's right. Four zeros. Whoa. Compared to competing online casinos, this is exemplary in terms of the actual starting amount in credit that you are gifted with. Some other casinos say to us, "$10,000? That is crazy!" But we don't listen to them.
We think not offering $10,000 is crazy. Don't you?
The deposit bonus also opens up a plethora of member-only special promotions that are constantly being updated. These included featured game competitions where your skill and luck are pitted against other players as well as Promo Crazy Days promotions that change every day in order to keep the floor fresh and exciting.
How does Online Casino Bonuses Work?
The casino bonus functions on a deposit principle – the amount you deposit is matched according to the percentage of the bonus. While many casinos offer one or two free deposits with a 100% match, Silver Oak has thrown out the rulebook completely with 10 free deposits, all at 100% match. Our accountants told us not to do it, but we're doing it anyways. This means that your first 10 deposits into your account will be matched accordingly, up to the amount that you decide to deposit. If you deposit $1000, you get $1000 free. With a maximum match of $1000, there is potentially $10,000 in bonus credit available.
It's like getting a free car.
Although the bonus itself is not cash redeemable, it gives an unparalleled edge to players that sign up, especially given that many games have variable wager systems, allowing you bet very small amounts. This means that a player has a significantly enhanced chance of learning individual online games and becoming quite good at them, all without 'breaking the bank'.
The Cash-back Option: Complete Control of Your Bonus
If that wasn't enticing enough, there is also a cash-back option available with deposits up to $1000 where a bonus wasn't redeemed, which gives some leniency in terms of holding onto the bonuses until you really want them – say you find a game that you're particularly good at it, you can then decide to match your deposit on them using a bonus, and come away with a lucrative payout.
Redeeming the Casino Bonus Code
In order to redeem the bonuses the process is quite simple. Each deposit is accompanied with a coupon code that you can validate with the casino cashier and a corresponding number to indicate which deposit it is. For instance, the first deposit's coupon code is SILVEROAK1, the second deposit's coupon code is SILVEROAK2, and so forth until the tenth deposit.