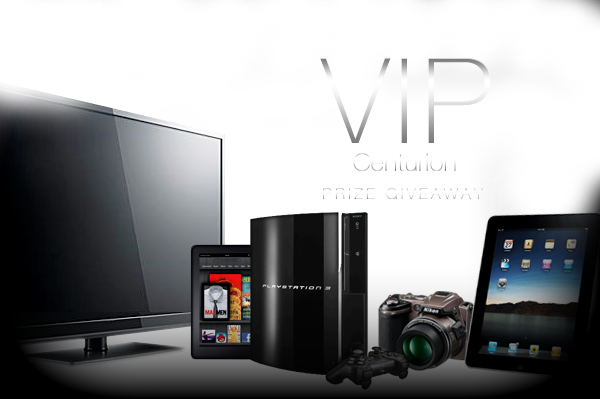 We're Rewarding Our Centurion VIP Members!
As a Silver Oak Centurion VIP, you have access to the best VIP benefits and promotions available online. Today we're presenting another amazing VIP Special promotion: The Centurion VIP Giveaway.
We're giving our Centurion VIP members like you thousands in gifts every month. All you need to do is redeem the coupon code VIPGIVEAWAY (or VIPGIVEAWAYTABLE) anytime this month and you'll be entered in a biweekly raffle in which we will be drawing Plasma TV's, GPS's, Laptops, iPods, Tablets, Digital cameras, Game consoles and many more incredible items. Every time you redeem this code, you will earn an additional entry into the draw.
How to Win Our Centurion VIP Giveaway:
The Centurion VIP Giveaway drawings are held every other Monday. If you are one of our lucky prize winners, your VIP Host will contact you with the good news and will also help you arrange the delivery of your prize. So don't waste another moment and redeem any of the codes now to submit your entry and start playing to win.
-SLOTS AND KENO GAMES ONLY
-NO PLAYTHROUGH REQUIRED
-NO MAXIMUM CASH-OUT
-DEPOSIT $100 OR MORE QUALIFY
REDEEM COUPON CODE: VIPGIVEAWAY
Prefer table games? Use the coupon code VIPGIVEAWAYTABLE
180% Match Bonus – All allowed games excluding Blackjack
No Max Cashout – Deposit $100 or more
Get the Most from Your VIP Experience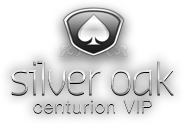 As a Silver Oak Centurion VIP member, you have access to a range of exclusive benefits such as Higher Insurance on deposits, more Comp Points, Special Promotions and Personalized VIP Hosting services among others benefits.
To access your personalized VIP Host, call 1-888-786-9760 (during business hours) and get the service you deserve.
*Office hours are Monday through Friday 12 noon eastern time till 11pm and Sat 11am till 7pm.
In order to be qualified to win one of the item prizes, a player must have (a) have an account with Silver Oak Casino, (b), a valid VIP status and (c) have made a deposit of at least $100 during promotional period.
Some players may be restricted due to their Player Class. If you have a doubt in regards to your class eligibility, please contact Customer Support.
Only one item may be sent per household, per player, per promotional week.
As mentioned in Silver Oak Casino's terms and conditions all participants are required to be at least 21 years old.
Items may only be shipped to physical addresses within the United States and Canada with the exception of Alaska, Hawaii, and Puerto Rico. We are unable to ship to P.O. Boxes. In order to ship any winning(s), a players account must be certified.
The winners will be randomly selected to win one of the items at the end of every promotional week.
Winners will be announced every week and Silver Oak Casino will order the items from Amazon by the following day after raffle results are available.
Silver Oak Casino is not responsible for delays or lost/damaged merchandise.
Items will be considered final at the time of each ticket count. No winning player may trade or exchange items.
The prizes are not transferable for cash; in the event of a winner not willing to receive the item, the Casino will match the value of the item with a promotional casino free chip.
Participants may redeem the coupon codes as many times as they wish during the promotion. In fact, participants are encouraged to do so in order to get more tickets into the raffle and increase their chances of winning.
A set of new items will be posted in Silver Oak Casino's website with the coupon code valid to participate. Each redemption of the coupon code will count as a ticket for the weekly raffle.
Tickets are counted for each item until the contest is declared Closed. Bonus coupons will still be redeemable for the entire duration of the contest.
All other standard promotional rules apply.
Coupons are No Play Through and No Max Cash out for slot and keno games and 40x Play Through and No Max Cash out for all allowed games (excluding Roulette, Craps, Pontoon, Baccarat).
Offers available not valid in conjunction with any other offers.
A minimum deposit of $100 using the promotional code is required.