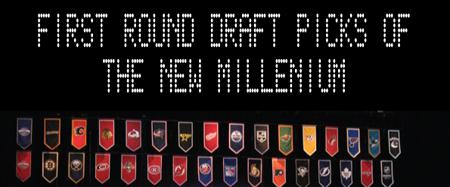 The first round of the NHL Entry Draft is a huge moment for everyone who loves hockey. Careers are born, stars are made, busts are given their final hoorah, and G.M.'s (and their staffs) are critiqued for as long as they remain relevant.
Every June, just weeks after a Stanley Cup champion is crowned, the hockey world gathers in one of 30 NHL arenas to witness a select group of young athlete's dreams come true.
The NHL entry draft marks a unique 48-hours in the calendar year where GM's, owners, scouting staffs and coaches make selections that can ultimately impact a franchise for years. Hockey enthusiasts from around the globe critically dissect every decision made during these two days and often debate these choices well into the summer months and following season(s).
Since the turn of the century there have been a lot of fascinating drafts. Some teams have drafted successfully while others have struggled comparatively. With seven rounds of drafting, plenty of selections will miss the target as not all players get to live out their dream of actually playing in the NHL. This infographic focusing exclusively on the first round and all of the picks made in it since 2001.
The grading applied to each team is represented in two forms. The first is Drafting and the second is Retention. Drafting looks at what the teams have done in terms of each player's success in the NHL to date as well as more recent picks and how they are developing or projected to perform. The Retention grade is based on how many players have initiated and sustained their playing careers with the team that selected them.
Certain teams have developed and retained players for several seasons who then later were used as value in a trade to acquire new players or draft picks. This was taken into consideration. Philadelphia is a good example as they successfully drafted, developed, and played elite level NHL players (Mike Richards and Jeff Carter) yet they were recently traded to other teams for similar value/assets.
Collecting data for this project brought to light some interesting statistics. The general consensus among knowledgeable hockey fans, when it comes to draft picks, is that you take the best player available (B.P.A.) no matter the circumstance or the current team's needs. While debatable, this holds quite a bit of merit as a team's dynamics can change rapidly in today's NHL with trades, injuries, new coaches, and more.
From the data we see that the majority of first rounders selected are forwards; nearly double that of defensemen who are generally known to take longer to develop and tend to need more seasoning in junior leagues.

To embed this infographic click in the box below then hit Ctrl-C to copy.