Double whammy for Natalie Portman.
Natalie Portman announced yesterday that is both engaged to be married and pregnant!
Rather than hide her amazing news with the world, the generally publicity shy actress spoke out about her big and very exciting news! The starlet's publicist confirmed on Monday that she is indeed engaged to choreographer Benjamin Millepied and the couple are expecting their first child in 2011.
Portman explained in a statement to Entertainment Weekly, "I have always kept my private life private but I will say that I am indescribably happy and feel very grateful to have this experience."
The lovebirds met on set while filming the psychological thriller "Black Swan." Portman's epic performance in her role is generating notable Oscar buzz. She has already received nominations for both a Golden Globe and a Screen Actors Guild award.
Throughout their budding romance, the couple has remained tight lipped about their romance. Millepied gushed about Portman back in June to Details that Portman's talent stood out to him on set– "I was blown away— especially by Natalie, who was amazing to watch."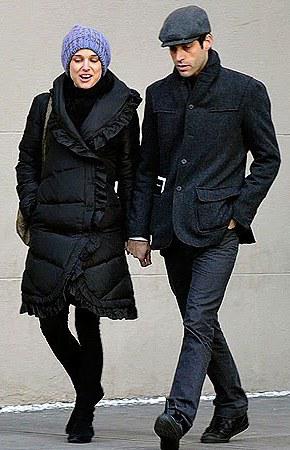 Millepied is a native of France and is a both a world famous choreographer and principal dancer with The New York City Ballet.
The couple is expecting their first child in the Spring of 2011. No wedding date has been announced– We assume it will be low key and Natalie will be keeping distance from all paparazzi hot spots!
Oh, Miley.
It's been quite the year for Miley Cyrus, so it only makes sense that the teen superstar will close the year with one last dose of scandalous material.
Cyrus is now facing new controversy over freshly leaked photographs. The photographs, show Cyrus on the lap of a female assistant who is pretending to lick her breast, while wearing a barely there dress.
Miley's latest photographic scandal comes just a few weeks after the Singer-actress made headlines (and made a drug popular) when a videotape leaked, showing Cyrus taking bong hits packed with Salvia during her 18th birthday party.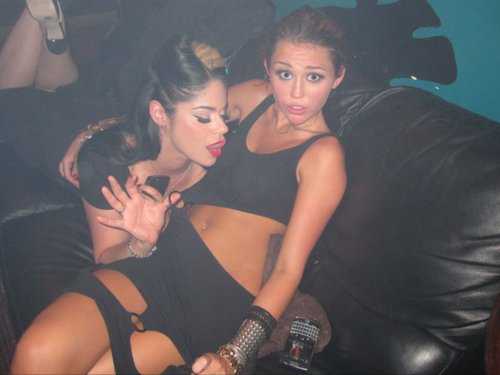 Miley is an adult and since she turned 18, she can do as she pleases. Here's to seeing Miley at a Pussy Cat Dolls show in 2011! I mean, that's where she's heading..