Online Slots: Your "How To" Guide
No matter which casino you decide to play in, you'll be hard-pressed to avoid the slot machines. A true gambler's game, slots require no special skills or knowledge in order to play. However, like any casino game, there are strategic ways to bet your money. We'll take you through some best practices when playing slots and help you become a millionaire over night.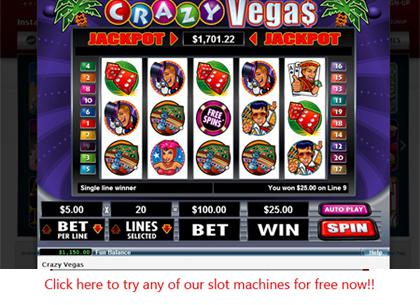 What are Online Slots?
Before we get into tips and strategy, we must ask the fundamental question: What exactly are online slots? Online slots are essentially the exact same as video slots, and are divided into two broad groups: Classic three reel slots and video five reel slots. (Note: Video slots in your typical casino will usually be five reel slots).
Online differ from traditional slots in a variety of ways. Online slots often have wild and scatter symbols – both of which offer an increase payout opportunity for the player. In addition, most online slots offer progressive jackpots and will provide the player with free spins and bonus games, which provides the players with increased opportunity for a big payout.
Sticking to your bankroll
Like any game you choose to play at the casino, going in with a decided bankroll is very important. However, in online slots, it's absolutely imperative. You can make and lose money rather quickly in slots, so keeping a strict bankroll will negate any big losses. Also, when it comes to online slots, given that you aren't physically handling any of your money, it can often feel as if you're not playing with real money, which can lead to increased risk.
Keep in mind that when it comes to roulette or blackjack, you can mathematically calculate the percentages. You can't do this in online slots, so the only way to know how much you've made or lost is to continue to keep tabs on your "player history" and track your progress throughout your gaming sessions.
Take advantage of the free money!
At the end of the day, the player is always looking for the best and easiest way to make money. As mentioned above, online casinos will often provide the player with free spins and bonuses. When compared to other casino games, online slots offer higher bonuses with lower wagering requirements. This is a great way for a player to make money without dipping into their pre-determined bankroll.
Maximize your money
Your best strategy when playing online slot is to enable all the paylines with the maximum wagered per payline. While this seems like a risky proposition, keep in mind that winning combos only payout if they appear in an active payline. Also, as mentioned above, online casinos usually offer a progressive jackpot, which can only be won if all paylines are active and maximum coins are wagered. In order to make sure you meet all the necessary criteria for a big payout, hit the "Bet Max" button, which will ensure that all paylines and wagers are maximized.
Last but not least, have fun!
Online slots are meant for players to make money and have some fun. If you struggle with the former, don't let that ruin the latter. Use these tips provided to help you make some money and have some fun. And if you end up becoming a millionaire, be sure to buy a round at the bar.